Contest Closed!  Oh, my gosh you guys are fast!!!
First comment gets the unclaimed ARC!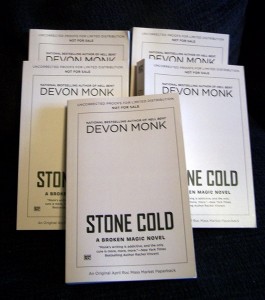 Mirrored from Devon Monk.

One ARC of STONE COLD hasn't been claimed yet.  If it isn't claimed by noon PST tomorrow (March 1st) I will give it away in a first-responds first-gets-it, here on the blog (just after noon PST, March 1st).
I'll send out reminders on Twitter and Facebook a few times between now and then. So if you follow me there, you'll be reminded.

STONE COLD, will be out on April 1st!  That's only a month away!!
I am excited and nervous for Shame and Terric's story to finally be in the hands of readers. Shame and Terric are living through a much darker time in their lives than Allie Beckstrom did in her books. They have monumental challenges in front of them, and doing what they have to do to face those challenges is no walk in the park. I love these two stubborn, flawed, brave characters, and I hope readers will enjoy spending time with them too!
RT BOOK REVIEWS (Bridget Keown) gave STONE COLD a 4 star review!
Here is some of what she said:
"…two hopelessly dysfunctional and utterly compelling heroes whose fascinating magic both binds and traps them. The odd bond that they share, both magically and personally, is strong enough to hold readers' attention and empathy, and the dark, edgy adventure will keep them enthralled to the final scene."
Thank you, RT Book Reviews and Bridget Keown for such a lovely review!
Mirrored from Devon Monk.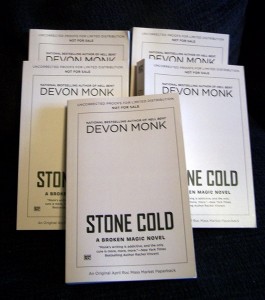 A few days ago I posted a giveaway for five (5) ARCs of STONE COLD.
Thank you for entering!  I have fired up ye olde random number generator, and the winners are:
Poppy who said: I would love a chance to win an ARC of Stone Cold. Hell Bent was amazingly awesome. Shame is the best!
Heidi Franklin who said: I can't wait to read it!!!
Amanda Brown who said: Awesome giveaway, I haven't started this series yet. I have the first 2 books on my desk and am doing my ritual of admiring them on the shelf for a little while. Can't wait to read them. Thanks for the giveaway!!
Bethany C. who said: I would love to win a copy, thanks!
Susan who said: I always look forward to you new books!
If winners do not contact me by Friday, February 28th, I will offer up the remaining ARCs in an exciting first-comments-first-wins speed giveaway on Saturday, March 1st.

Mirrored from Devon Monk.
Note: This week I'll be blogging over on the Deadline Dames, so this post is also mirrored there.

I'm not going to lie. One of my favorite parts of being a writer is that tingly joy I feel the first time I see the cover art for a story I've written.
Today, I'm going to share that joy with you! I have a NEW three-book series in the works, the first of which comes out this September.  Book #1 is titled: HOUSE IMMORTAL.  I am so excited to share this series, these new people, and this fantastical world with you!
Here is the cover:
The amazing artist Eric Williams has given this story such a strong, eye-catching cover. I couldn't be happier with it.
My editor calls the book: "Allie Beckstrom meets Firefly" and I call it my: urban fantasy, near-future, Frankenstein farm girl, gently dystopic, steampunk-light, save-the-world story.
But whatever anyone calls it, I think the cover, quite simply, rocks.
Mirrored from Devon Monk.
I don't know about you, but around here it felt like the new year didn't *really* start until Monday the 6th.  So here I am 9 days into the new year and it feels like we've only had 2014 rolling for about three days.
Last post, I talked a little about what I had gotten done writing-wise in 2013.
In this post, I'll take a best-guess at what is coming out in 2014.
Books
STONE COLD – book #2 of the Broken Magic series (Shame & Terric books)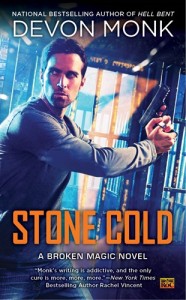 Release day: April 1, 2014
This is book #2 and the end of the two-book spinoff from the Allie Beckstrom series.  Book #1 HELL BENT is quite a bit darker than the Allie books since Shame lives a darker life than Allie ever would. After all, he is Death magic incarnate.
In STONE COLD…well, things get darker. Due to choices made and actions taken, Shame and Terric come up against some hard odds in this book. On their search for justice (okay, maybe for revenge too) quite a bit of bad stuff happens. But one of the things I love about Shame and Terric is that they never give in. No matter how dark things seem, they never stop fighting for what is right for magic, their city, and the people they care about.
TIN SWIFT – book #2 of the Age of Steam series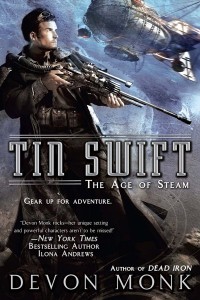 Release day – June 3, 2014
TIN SWIFT has been out for a bit, and my awesome publisher is re-releasing it in the smaller (cheaper) paperback size! I'm very excited about that, because I love paperbacks!  This book follows the adventures of Cedar Hunt, Rose Small, Mae Lindson, Captain Hink, and the wily Madder brothers as they trek across America looking for the lost pieces of a strange weapon that could destroy the nation, while something even stranger hunts them.  A steampunk adventure chock-full of airships, wild devices, guns and gears.
HOUSE IMMORTAL – book #1 of the House Immortal series
Release Day – September 2014
You read that right! I have a new 3-book series coming out!  The first book, HOUSE IMMORTAL will be on the shelves in September.  What can I say about these books?
They are fantasy with a strong female lead. I describe them as: near-future, Frankenstein farm girl, gently dystopic, steampunk-light, save-the-world books.  My editor called them "Allie Beckstrom meets Firefly" and I sort of love her description even more!
Here, let me share the back cover copy for the book:
One hundred years ago, eleven powerful ruling Houses consolidated all of the world's resources and authority into their own grasping hands. Only one power wasn't placed under the command of a single House: the control over the immortal galvanized…
Matilda Case isn't like most folk. In fact, she's unique in the world, the crowning achievement of her father's experiments, a girl pieced together from bits. Or so she believes until Abraham Seventh shows up at her door, stitched with life thread just like her and insisting that enemies are coming to kill them all.
Tilly is one of thirteen incredible creations known as the galvanized, stitched together beings, immortal and unfathomably strong. For a century, each House has controlled the galvanized. Only now, the Houses are tangled in a deadly struggle for dominion over death—and Tilly and her kind hold the key to unlocking eternity.
The secrets Tilly must fight to protect are hidden within the very seams of her being. And to get them, her enemies are willing to tear her apart piece by piece…
Of course, I have some other writing projects up my sleeves that I hope to announce soon.  So please stayed tuned, and thank you, thank you for reading!

Mirrored from Devon Monk.
Here's how 2013 shook out for me:
Writing
Books written: 3               — Hell Bent, Stone Cold, House Immortal
Short stories written: 2   — Life Between Dreams, The Lost The Found
Books revised: 2               — Hell Bent, Stone Cold
Books copy edited: 3       — Cold Copper, Hell Bent, Stone Cold
Books proofed: 5              –Dead Iron (mmpb release), Cold Copper, Hell Bent, Tin Swift (mmpb release), Stone Cold
Other books worked on: 2
I also tried my first self epublishing and released a Kindle edition of my short story, HANG FIRE, which takes place between Dead Iron and Tin Swift in the Age of Steam series. I hope to put it out in more formats soon.
Oh! And my short story collection, A Cup of Normal is now available in eformat!
Covers of the books I worked on this year. Because: pretty!
Short stories I worked on:
This wasn't exactly how I expected my year to unfold, and while I wish I would have fit a few other projects in that schedule, I know I was doing the best I could at the time.  Speaking of time, I took 33 days off last year.  If you work a normal 5 day a week job, you average about 104 days off in a year.
To put this another way, I got a day (or days) off in every month except January, August, September, October.
The fallout of having no days off for a three month run near the end of a busy year (Aug-Sept-Oct.) was tricky. By the time November was over (I only took 2 days off in November–Thanksgiving & the day after) I was pretty worn out, writing-wise. Luckily, December's work was a couple of sets of proofs, a revision letter to muddle over/brainstorm through, a short story to write, and a newsletter to design/launch.  I did all that and took 8 days off in December over the holidays.
Whew!
Newsletters and Knitting
I launched my first newsletter in December, and intend to make it a quarterly thing. Thank you everyone who signed up for it! If you'd like to sign up, you can click on the link there in the sidebar of my blog. The newsletter will have excerpts, free stories, knitting patterns, news and more.
As for this year's knitting, I think this was the year of the silly hats. I'll let these pictures tell the tale.
Cloud light pull (not a hat!)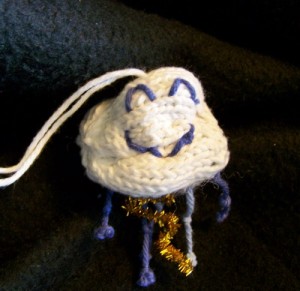 Knight hat for nephew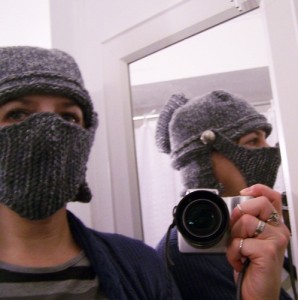 Plants vs. Zombies hat for me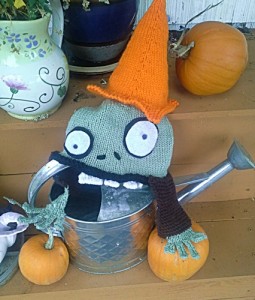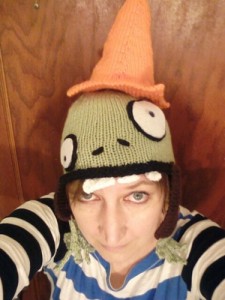 Patchwork wizard's hat for son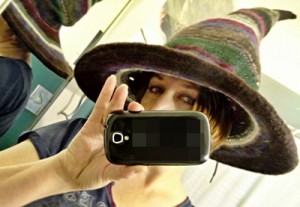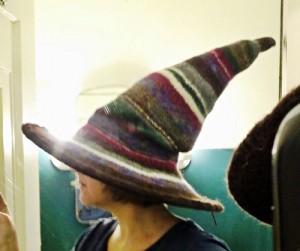 Viking hat for nephew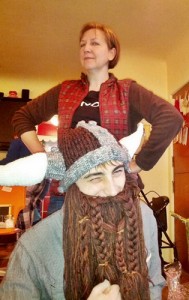 I also knit a pretty slouch hat for a gift, but didn't get a picture of that one before I sent it.
This is a pretty long post, so I think I'd better wrap it up.  Next post, I'll gaze into the future of 2014 and share news on that new book series I have coming out!
Mirrored from Devon Monk.
I always say I will shop, clean, decorate, bake, make, and otherwise indulge in holiday joy early every year.
Did I get everything done early this year?
Not even close.
My son, the smart guy that he is, went "first minute shopping" as he called it, and got gifts taken care of in the first week of December.  I, on the other hand, was strolling the shops on Christmas eve morning. (Side note: a shop keeper saw me staring longingly at a $700 Victrola and offered to wind it up and play it for me.  He and I stood there and enjoyed the music for several minutes. It was lovely.

)
But before I lead you to think I got nothing done, that isn't the case.  I handmade twenty-seven gifts this year, shopped, baked, decorated, cooked the big meal, and hosted breakfast for 47.  During this, I also turned in a set of proofs, brainstormed revisions on a novel due in about a month, sent out my first newsletter, and knitted that wizard's hat I posted the other day.
It has been a wonderful whirlwind of work and play, and I've enjoyed every second of it.
If you missed the newsletter, I will be posting the exclusive snippet from STONE COLD here on the blog in a couple days. Also, you can click here to read the free Shame and Terric short story (and don't forget to enter the contests for free stuff!) The other newsletter content will also be posted here on the blog over the next week or so.
If you signed up for the newsletter, thank you, and I hope you enjoyed it!
The gifts I handmade this year were wooden tea or trinket boxes that I covered in pretty paper and Modge Podged for the women folk: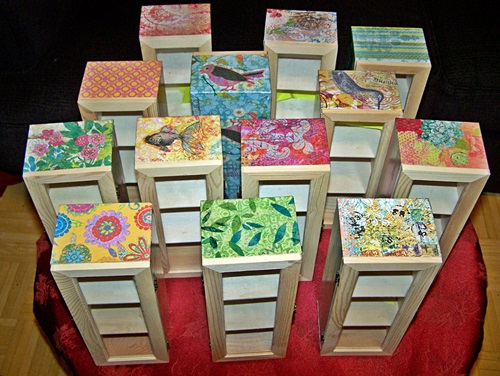 I also made wool dryer balls.  I forgot to get pictures of these, but I hand-wound over three miles of yarn into balls. Then I felted them all, which made them dense.  You put the felted balls of yarn in your clothes dryer to help separate laundry so it dries faster.  I made some for myself first to see if it worked, and it does!
The last thing I made was this knitted Viking hat for my nephew. I cast on Sunday and had it done by the wee hours of Wednesday morning.  As you can see from the picture, we both agree that  it's a mighty hat, perfect for a mighty warrior!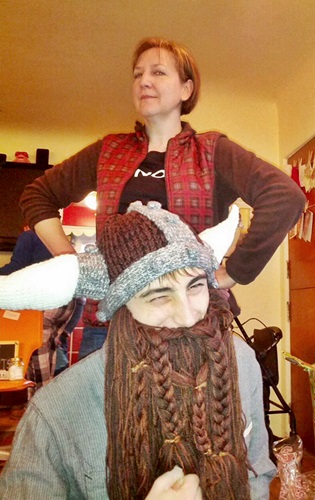 Mirrored from Devon Monk.
This:
In case you missed it on Twitter and Facebook, I just finished my first felting project!  I used stash wool, but some of the yarn wasn't 100% wool so not everything felted.  Oops!  However, I still kind of adore this patchwork Wizard's hat:
Specifics: I used Anne Carroll Glimour's "The Enchanting and Magical Witch Hat" pattern,  on size US 11 needles with worsted weight yarn. I knit the adult non-slouchy hat, but added an extra row after each decrease.
That:
I just turned in proofs for TIN SWIFT,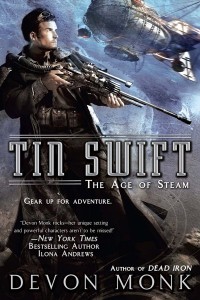 book #2 of the Age of Steam series.  What's that, you say? You thought TIN SWIFT came out a couple years ago? You are correct, it did!  However, my awesome publisher is releasing it in paperback format (smaller, cheaper!) and I had a chance to fix a couple typos. Yay!  You should see TIN SWIFT in paperback format this June, which means you will be able to get both DEAD IRON (book #1) and TIN SWIFT (book #2) in paperback.
Next up on my writing plate is to go through proofs for STONE COLD.  These are due back on the New Year, which means STONE COLD will be out in stores on April 1st 2014.
Proofs, by the way, are the last chance I get to see the book and to catch typos, extra spaces, and etc.. At this stage I'm not allowed to revise or rewrite anything. It's just a last pass where I (and a second proofreader) attempt to comb out those rascally extra periods and typos.
Other Things:
1. My newsletter will be going out this weekend!  This first newsletter has an exclusive excerpt from STONE COLD, a free Shame and Terric short story, a knitting thing, a new book announcement, and other fun stuff.  Subscription button is on the side bar of my web page.
2. I am hand making some gifts this holiday season. I'd love to show you what I'm working on, but can't share the projects until after I give them since I know a couple of my gift-receivers read this.  (I see you hiding over there behind that fake mustache).
3. I also hope to squeeze in some relaxing holiday reading before the new year but haven't decided what to read yet.  Decisions, decisions. Anyone else snuggling up with a good book?  What are you reading that you're loving on?
Mirrored from Devon Monk.
I blog every third Monday over at the Deadline Dames, and today, I thought I'd share that post here too.

Where did November go?  I swear, I blinked and the month was gone! And yet here we are, in the last month of 2013, just a few short weeks away from starting a new year.
Pretty soon those of us who make resolutions, or affirmations, or goals will be busy deciding just what exactly we hope to add or subtract from our year to come.
But before we get there, I thought I'd look back over November and share a few cool things that filled my days.
1. I turned in book #1 of a new trilogy. I haven't talked a lot about this new series, but yes, I am writing a new urban fantasy-esque series, the first book of which is titled, HOUSE IMMORTAL.  I also got a peek at the cover for the book, and it is stunning!
HOUSE IMMORTAL is not a part of the Allie Beckstrom world, or the Cedar Hunt steampunk world. All new stuff here! HOUSE IMMORTAL will be out next September, and I'll send out reminders, share the cover once it is finalized, and talk more about the story as soon as I can.
2. On that note, if you want to get (probably monthly or quarterly) reminders from me in your email, I am going to try doing a newsletter again. You can find a subscription link in the sidebar (right over there, top right). What will the newsletter contain? Exclusive snippets, behind-the-writing-scenes info, news, pictures, free fiction, and of course my knitting and knitting patterns I design.
The first newsletter will go out in a week or two, so there's plenty of time to sign up.
3. While I did start my first-ever Nanowrimo novel, I didn't hit the required 50K to declare the event a success.  What I did do, was finish a novel under deadline, and also copyedit another novel: STONE COLD, which is book #2 in the Broken Magic series. That is the last book in the spinoff duology from the urban fantasy Allie Beckstrom books, and is told from Shame's and Terric's point of view.  HELL BENT, book #1 in the series came out November 5th.
Thank you, readers who have reviewed, or tweeted, messaged, or emailed saying you enjoyed HELL BENT. You rock!  STONE COLD will be out April 1st.
4. The last exciting thing I wanted to share with you was that I was invited to attend the first annual Indies First Day, which coincided with Small Business Saturday. This event was sparked by this letter written by Sherman Alexie.  Two of my local bookstores: Reader's Guide and The Book Bin asked me to come in and talk books, or sell books, or sign books to celebrate the day. I was more than happy to do so and had a great time chatting with readers.  Thanks again, readers, for coming out, shopping local, and making it a great day!
5. Okay, one more thing because the cuteness is beyond belief. Here is The Book Bin's newest member, Rose Weasley, all curled up under the table where I was sitting. Isn't she adorable?
I hope you all had WONDERFUL November, and that your December turns out to be the best month of 2013!
Mirrored from Devon Monk.
I promised I'd talk a little more in depth about the panels at Orycon and the big Sci-Fi Authorfest at Powell's Books.  Here goes (with links!):
Orycon:
I was on four panels this weekend, and enjoyed them very much! My fellow panelists were Craig English, David  F. Walker, Sheila Simonson, J.A. Pitts, Ken Scholes, Stephen Couchman, Adrian Phoenix, Renee Stern, William F. Nolan, Jennifer Brozek, Rhiannon Held, Anne Bishop and Patricia Briggs.
It was terrifically fun to listen to all these amazing people offer up information and wisdom about writing, the creative life, the creative business, and the joy of geekdom.
I had a chance to attend a panel about writing and illustrating for the RPG industry (something I know next to nothing about) and really enjoyed listening to the panelists: Jess Hartley, Larry Elmore, Jason Andrew, Rhiannon Louve, Robert Plamondon.
I also attended the Fairwood Press book launch party, where they were launching J.A. Pitts collection: Bravado's House of Blues, and sharing the limelight with  Brenda Cooper's  novel The Diamond Deep, and Raygun Chronicles, edited by Bryan Thomas Schmidt.
All-in-all, it was a great weekend and I was once again reminded that this is a community of creative people who are gracious and hard-working and lovely.
Powell's Books Sci-fi Authorfest 7
Powell's put on another fantastic multi-author signing on Sunday! I love these signings because the writers and readers are always so happy and excited to be there.  It's a big, happy reading party!  This event was covered by the local newspaper, the Oregonian.  You can check out their slide show of awesome authors and readers here.
But my personal favorite moment?  When a real life Terric Conley from HELL BENT showed up to tell me his opinion of Shame's book and to clear up some  details about what really happened in the book!!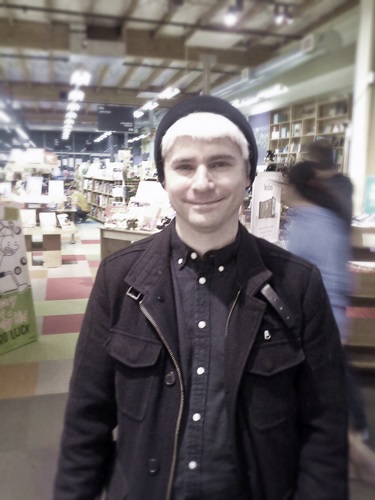 Mirrored from Devon Monk.