Fiction River – Unnatural Worlds is officially out today!
This fantastic anthology is filled with terrific stories from authors: Ray Vukcevich, Esther M. Friesner, Irette Y. Patterson, Kellen Knolan, Annie Reed, Dean Wesley Smith, Kristine Kathryn Rusch, Leah Cutter, Richard Bowes, Jane Yolen, and David Farland, (and yes, me too!) and is edited by Dean Wesley Smith and Kristine Kathryn Rusch.
My short story in the anthology is titled: LIFE BETWEEN DREAMS. While it isn't set in the Allie Beckstrom universe,  I think if Allie met Mary, they'd get along just fine.

To celebrate its release, I thought I'd post a little snippet of my story for you today. Happy reading!
LIFE BETWEEN DREAMS
Mary Still dropped the screwdriver back into the empty coffee can next to the jar of Moebius clock oil, and held her breath. From just beyond the open door of the garage she heard the distinct glassy tink of this reality colliding with another. Someone, or something, was crossing the boundary.
The sound could be nothing, just the random scrape and rattle of the joined universes steering a little too wide around the corners.
It could be the bosses, who said they'd be here in exactly one hour to see that the outpost was secure and to reassign her a new partner if Tom didn't return.
Or it could be Tom.
She hoped it was Tom. But she hadn't seen her partner for six months now, not since the job they'd almost failed in East London with the dreamer kid. She'd walked away from that with a much finer appreciation for the rules of dispelling terrors and imaginings.
Tom had just walked away.
She picked up a tire iron and a wooden cross, and moved back from the nineteenth century Regina music box she'd been restoring, even though she had yet to find a comb to make it sing. No need to lose paying customers just because she had to fight nightmare creatures from another dimension, or worse, her bosses.
She strolled up to the door and opened it. Being quiet and sneaky around terrors and imaginings never worked. Walls didn't stop them, doors didn't hold them back, and stealth was a waste of time.
Still, she hesitated there in the cool shadow of the garage and stared out at the Nevada sunlight pouring over the rocks and orange dirt in front of her shop. Highway 90 lay like a black snake warming itself over the arid land, curving down out of Goldfield up north and missing her place by an eighth of a mile or so.
Wind hissed through the sage brush and set the insects buzzing.
A man stepped up to the front porch of her shop.
He was medium build, brushing six feet tall and wore a black wool coat that reached almost to his knees, his jeans tucked into the top of hunting boots. His dark hair was brushed up and away from his face, even though it was several inches too long to hold the style, and he was in need of a shave.
Hands shoved in his coat pockets, he paused to read the sign above her entryway: STILL CURIOUS ANTIQUE RESTORATION
"You put my name on the sign?" he asked.
"Yes," she said, not lowering cross or bar yet. "Good to see you, Tom. You owe me half a year's overhead on the place."
He turned his head, tipped down his sunglasses. "Good to see you too, Mary."
She swallowed against a mix of anger and relief that rushed through her. He still had a soul behind those eyes. He was still human. That was good. Very good.
"Are you going to put your sticks down yet?" He gave a slight nod toward the cross and crowbar.
"No. But you might as well go inside. The coffee should be done brewing."
He hesitated. Maybe he didn't want her at his back. She was angry, and he was pretty good at reading her emotions even though no one else ever was.
"Are you worried I'm going to knock you out when you're not looking?" she asked as she strode across the dirt, her boots kicking up clouds of cinnamon dust.
"It crossed my mind."
"You'd deserve it."
"Yes," he said, "I would."
And that was that. They were partners again. Everyone got their one time out, their one time to break away from the job and never come back. No one would chase them down if they decided to just quit.
Coming back meant the next unapproved time off would be in a coffin.
"That was your one chance, you know," she said as they stepped into the darker, but not much cooler, shop.
The place was filled with rare items she'd restored through normal, and inter-dimensional means. Shelves and corners were stacked with antiques and other valuables. Need a bellows for your harmonium or a Tiffany lamp base plate? She'd find it in this world, or cross a few boundaries and find one that was still intact in an alternate dimension.
The bosses didn't love the idea of trans-dimensional Dumpster diving, but a girl had to make ends meet between gigs of saving the world….
…continued in Fiction River – Unnatural Worlds anthology
Mirrored from Devon Monk.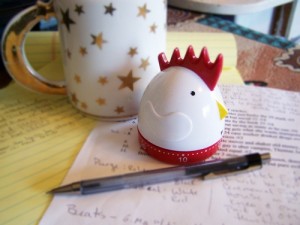 I've spent the last week trying to get my brain in the right place for writing STONE COLD, book #2 in the Broken Magic series.  Maybe, maybe I've finally figured out the right way to approach it.
I don't know why this book has been so challenging to get started.  It could be because this is a two book series at this point, so book #2 has to do the work of tying off everything from book #1 (HELL BENT), tell a great story, and wrap everything up for the series.  That's asking the book to carry some of the weight of a middle book, and also all of the action of a final book, while still needing to stand on its own as…well as a book.
Or it could be that I've never set out to write a two-book series before, and I am just over thinking it.  (a-hem)
Anyway, I have an opening line I finally like, which is good.  Unfortunately, all the rest of what I've written doesn't fit with that opening line.  So….I'm at square one again. But this time I'm at square one with an opening line! Win!
Mirrored from Devon Monk.
Last week I finished off the editorial revisions for HELL BENT.   Editorial revision are based on the edit letter I get from my editor.  She points out things that worked for her and also things she feels are lacking or confusing.  It is up to me to decide how to implement changes or adjustments to the book, keeping in mind that she has the fresh eyes on this project and knows her stuff (while also keeping in mind my vision for the book.)

I wanted this book to be a fast and linear read but she thought it was a little too fast and linear and suggested some follow up on the secondary plot lines.
So I got busy. 1) deciding which secondary plot lines I wanted to expand 2) working out the secondary plot arcs so they flowed properly and didn't bog down the pacing 3) mapping scene by scene against the current text to find places where I could break the book apart and stitch in new scenes 4) writing the new scenes…and finally 5) reading/cleaning up the book from Chapter One to The End making sure the story, action, and emotions flowed so it was still a fast read.
Took me about three weeks, which was a little longer than I would have liked, but I felt the time was well spent. Did I do a good job?  I'm pretty happy with it.

  We'll see if my editor likes the changes.  One good thing about expanding the book is that we get more scenes with Shame, Terric and characters we know and love from the Allie books–and they are fun scenes!
While my editor looks over the revision, I'm turning my attention to book 2 in the series: STONE COLD.  Since this is a two-book series (at this point) I need to make sure the books work well on their own and are also satisfying when read together. Even though I know many things about STONE COLD's story, because of the shifts and decisions in the first book, the second book naturally needs to morph and change a little.
Today begins my countdown to getting STONE COLD turned in by early June.  I have not a single word written on it yet. No outline, no scene list.  But I DO have a large cup of coffee and the sun at my back. Time to start walking the road.
Mirrored from Devon Monk.
I finished the revisions on HELL BENT and sent it off to my editor on Wednesday, so then I took a little time to clean up my web page a bit.  If you go poking around, you'll see a page for HELL BENT, (under Books: Broken Magic: Hell Bent)  an updated short story page (under Books: short stories), and some of my friends' books that will be coming out this month (down there on the side bar).
I am also turning my attention to a few other things around the house.  We intend to expand our garden this year.  Last year we put in a couple of raised beds and promptly (and repeatedly) killed cucumbers, beans, pumpkins and squash.  We did however, manage to grow zucchini ('cause seriously, who *can't* grow zucchini?), tomatoes, peas, strawberries, and one lonely acorn squash.
This year I want to put in two more beds and try to kill some potatoes, onions, and garlic.  I might even kill some carrots.
As for our hanging herb garden that I thought was so whimsical and delightful–it burnt to a crisp.  We planted the herbs in the direct sunlight in the hottest part of the yard and the poor things sizzled, smoked, and croaked.   So this year, the herbs will be tucked on the front porch where they will get morning sunlight and shade and shall be patted upon their leafy heads, and spoken to in gentle coos as we walk in and out of the house.
Our apple trees need a pruning, but our berries (raspberry, blueberry) are doing well.  The wild blackberry we've been trying to kill for ten years finally wore us down. We quit.  It can't be killed.  So now it is officially our corner-of-the-yard blackberry bush and it gives us lovely, plump berries when it is not trying to eat small children or entangle stray dogs.
As for the ancient (and wily) Concord grape vines in the back, the husband took a saw to it, to the delight of our neighbors. Apparently they weren't thrilled to have the grapes climbing to the top of their 40 foot trees and dangling untouchable fruit above their heads.  Since it had also devoured our dogwood, vine maple, and walnut tree, we were happy to bring it down a notch too.
And writing?  That's going great, thanks!  I'm currently brainstorming and plotting book 2 in the Broken Magic series: STONE COLD. Since it's due in a couple months, I'm hoping to get all the details nailed down this weekend and get a good strong start on it Monday.
Sorry for such a rambly post.  Feel free to ask me questions, if you are in a chatty mood.

Mirrored from Devon Monk.
I have this 1964  cookbook that belonged to my grandmother or one of my aunties, I think.  The cover has fallen off and the spiral binding has disintegrated. It was printed here in Salem by a local press that is still  around (Your Town Press) and it carries this exciting title:
FABULA'S FAMOUS RECIPES by Oregon's Finest Cooks!
Oregon Farm Bureau Women!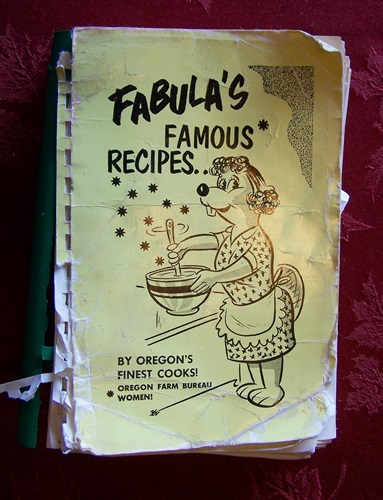 And yes, that is a 1960′s beaver housewife you're looking at there.

This book is a collection of recipes from the ladies all across Oregon, and it's filled with humorous quotes, information about Oregon's counties with pictures…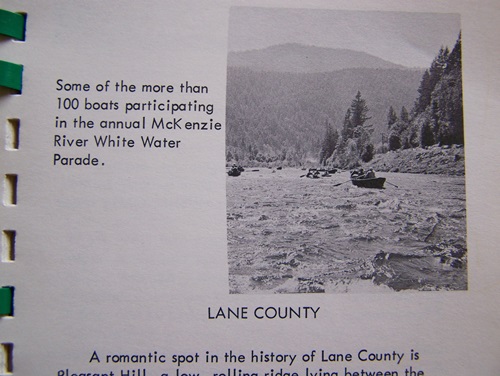 …and even an ad or two: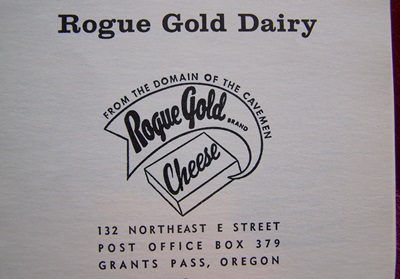 This book has my favorite snickerdoodle cookie recipe in it, and my favorite pixie cookie recipe.
But for some reason I'd never really looked through the rest of it.  So I've decided that this year, I am going to cook as many recipes out of it as I can.
Our first recipe is:
Oregon Centennial Cake by Mrs. Nathan Lemert from Lane County:
Fist Mixture:
2 1/2 C. hot APPLESAUCE
1 C. shortening
4 tsp. soda
Melt shortening into hot applesauce and add soda.
Second Mixture:
2 C. SUGAR
3 C. FLOUR
1 tsp. cloves
1 tsp. nutmeg
1 tsp. salt
1 tsp. vanilla
1C. raisins or candied fruits
1 C. WALNUTS
Add first and second mixture and mix. Pour into greased round pan and bake at 350 degrees 1 hour. Frost with maple icing.
Modifications I made to the recipe: I used butter instead of shortening (Yum!) and my applesauce was the sauce I canned last year. I had added some sugar and cinnamon in my applesauce when I canned it, so I went ahead and added a little more cinnamon in the cake recipe (about a tsp.) I do recommend going easy on the cloves as they pretty quickly take center stage.
I heated my applesauce in the microwave and I baked the cake in a 9×13 pan.
Go ahead and taste the batter to see if you like the spice balance, as there are no eggs in the recipe.  Fun fact: the hot applesauce mixed with the soda creates a reaction of bubbling or fizzing.  That's where the rise of the cake comes from.
I only had to cook the cake for 45 minutes–or until a toothpick poked in the center of it came out clean. I haven't frosted it yet, but we took a couple bites to see how it turned out. I went a little overboard on the cloves, (oops!), but otherwise it is rich and sweet and spicy. I think it would taste great with vanilla ice cream, butter frosting, maple frosting or whipped cream.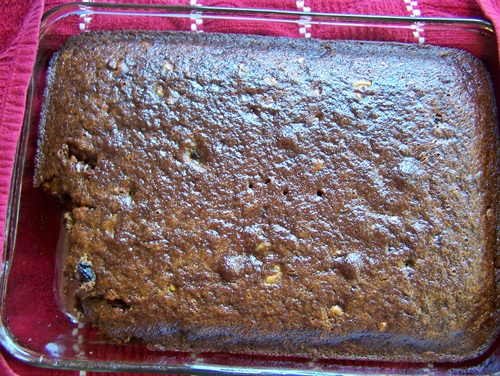 Mirrored from Devon Monk.
The random number picker has spoken!  Here are the 6 winners of signed COLD COPPER ARCs.  Please contact me with your mailing address by clicking on the little envelope button in the upper right of this blog. 
Congratulations, winners!
If I don't hear back from winners by next Wednesday, April 3, I will do a first-come first-win giveaway of the remaining prizes here on the blog that evening.
Big thank you to everyone for entering the giveaway!
muddybeagle who said: I am so excited that I am typing this on my phone.
Jason B. who said:  I don't normally read much steampunk (it's more a visual thing for me… comics and video), but Ms. Beckstrom highly recommended this series to me, so I've been hooked.
Mashiara who said: I hadn't read steampunk until reading your books. Now I'm happy to have a whole new genre to explore.
Rev. Bob who said:  Of course I read steampunk. Steampunk is cool…like bow ties and fezzes.
Chris Tice who said:  Too slow on the draw I am. Love your Age of Steam series and have just finished Magic to the Bone.
Kristi Fox who said:  So excited to delve into Cold Copper. I've loved every bit of this series, including Hang Fire!
Mirrored from Devon Monk.
Things You Can Read Soon

HANG FIRE – Finally!  Thank you, everyone for being patient with me on this one.  HANG FIRE is the twenty-part serial short story I wrote that takes place between DEAD IRON and TIN SWIFT in the Age of Steam steampunk series.  It originally appeared as part of a blog tour I did before TIN SWIFT came out. I've been contacted by several people who are disappointed they can't backtrack and easily find all the sections of the story.  I am happy to say HANG FIRE  will be e-published in its entirety in April.  This will be my first foray into epublishing, but I have a feeling it won't be my last.

LIFE BETWEEN DREAMS – New, original-world fantasy short story will be available in Fiction River – Unnatural Worlds anthology.  Mary Still and Tom Curious are part of an agency that monitors terrors and imaginings and the disasters they create. But when they are forced to  decide what is worth sacrificing for love, dreams, and each other, they might be making a mistake that could end the world.
Available in April.  If readers like this one, I think there could be more Still and Curious stories in the future.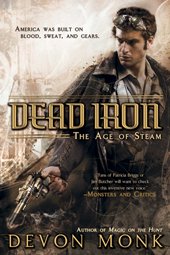 DEAD IRON – That's right! My wonderful publisher, Roc is re-releasing DEAD IRON (book #1 of the Age of Steam series) in paperback this June!  How excited am I about this?  Amazingly excited!!
COLD COPPER – Book #3 in the Age of Steam series will be out on July 2nd!  *throws confetti* And is available for pre-order now. I can't wait for people to get their hands on this book. More on that below…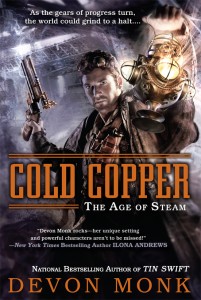 Things I'm working on
HELL BENT – Book #1 of the Broken Magic series is the spinoff of the Allie Beckstrom books.  It takes place three years after the end of the Allie books, and is told through Shame Flynn's point of view.  While this is a book that focuses on Shame and Terric, I am writing it to stand on its own without anyone needing to read the Allie series. We *do* get to see an awful LOT of familiar faces, both friends and foes.  I'm finishing the editorial revisions on it this month, and will send it back to my editor to see if we have a book.  If she gives me the all-clear, then I will turn my attention to book #2 in the series, STONE COLD.  HELL BENT will be out November 5, 2013 (here's a pre-order link). Oh, and I recently got a peek at the cover.  I think you're going to love it!!
There is, of course, some news I can't share yet. But trust me when I say some Other Really Cool Stuff is brewing, and I will clue you in as soon as I can.
Tune in tomorrow for: Things* I can give you
*A box of advance reader copies of COLD COPPER showed up on my doorstep, and I'll be giving those bad boys away!
Mirrored from Devon Monk.
My best friend and I decided to get away for a couple days as a birthday gift to each other.  We thought the beach would be a relaxing place to get a room, knit, stare at the ocean, take walks, and catch up on Dr. Who.
Things don't always go as planned.
We were supposed to check in to our hotel on Saturday. I had a family medical issue crop up, (nothing dangerous, just a routine procedure that the family member must go through every few years.)  How long did this 1 hour procedure (plus 2 hours of driving) take? 7 hours.
So we lost most of our vacation Saturday to medical stuff.  But that's no problem. We had a room for Sunday and Monday too. My friend called the hotel and the manager said she'd leave a key under the mat for us, and we were all squared away to check in late.
We got there at 11:45 (at night) No key. We looked under every mat. No key.  We called the manager. No one home.  This little coastal town rolls up its sidewalks at 9:00.  We drove around for an hour or more to find a hotel that was open. (Thank you night clerk at Surf Tides for calling around for us!) and finally checked in to a hotel that was not bad, but man…the decor! One room would have made Liberace say "that's a bit much, isn't it?"
I slept on a couch (while doing my best not to actually, you know, touch the couch) and in the morning we called the hotel again. The manager was surprised we weren't in our rooms, and even more surprised the night clerk had forgotten to put out our key.  The room was still available, and she comped us the day we hadn't been there. So, that was good.
We settled in for a great couple days knitting, watching TV, staring at the ocean (and walking the beach) and basically trying to relax.
We probably should have noticed something was amiss when we saw the man standing naked (well, we saw him from the waist up, so maybe naked) in the window a couple rooms down from us, grinning out at the beach.
Tuesday morning we knew something was wrong.  9:21 a.m.. Frantic knocking on our door. The manager tells us in a rushed voice that it was an emergency evacuation and we needed to leave the premises immediately.  My friend asked if it was a Tsunami or something else. The manager (who looked shaken and on the verge of tears) said she couldn't say.
What I grab in an emergency evacuation: phone, netbook, purse, keys, shoes (no socks), coat. We left everything else behind, got in the car and debated driving east (upward from the beach and a possible Tsunami wave) or north toward Starbucks.
We chose Starbucks. (Note to self, in a zombie uprising, I'm getting a mocha before all else.)
We thought it could be a gas leak or fire.  Waited an hour.  Drove back to see the motel (but not too close)  There were no emergency vehicles. So my friend called 911 and we were told there was a reason there were no emergency vehicles there, and the evacuation was still in effect.
We left.  Walked the beach.  Went to get a new cell phone battery since mine had decided…just that moment…to explode.  Found ourselves in a cell phone and gun shop, buying a battery and car charger for our phones (we'd left the chargers behind).  We wasted more time driving north, did a little shopping, called the motel several times.  Finally decided to drive back down to the motel.
There were police cars, swat vans, and yellow tape blocking the road.  We could hear a man on a bull horn talking about putting down weapons and stepping outside.  My friend got out of the car and talked to a couple neighbors who were standing in front of their houses watching the situation.  Here's what we found out:
Suspect in grandparents' homicide refuses to leave motel room.
Yep. A man who just got out of prison, murdered his grandparents, and was leading the police on a multi-state manhunt had checked in just two rooms away from us.  We're pretty sure he was half-or-all naked guy in the window.
We decided we wouldn't be getting to our luggage any time soon, and just left our things including my handwritten revision notes for HELL BENT  behind.  We headed home.
The good things? He never came to our door. We were unharmed, as were all of the people in the motel. Also, I have a new phone battery and a pair of bunny ears I stress-purchased.  It was not, however, a very relaxing vacation.  Maybe next year we'll just stay home and party in the back yard.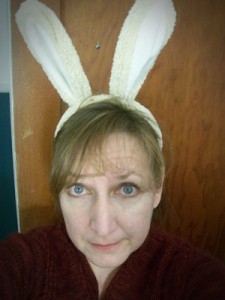 Mirrored from Devon Monk.
So there are a few really cool crochet patterns for knight's helms out there, but my crocheting skills are pretty rough. When I got a request to knit a knight's helm for a nephew's birthday gift, I thought I'd give a knitted version a go.
Here it is: (trust me, it looks better on my nephew!)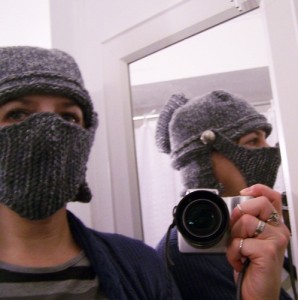 How hard could it be, right?  As it turns out, it's *not* all that hard, but since I gave the helm away and didn't write the pattern down as I went, I'm going to give you the basic guidelines for making this helmet. I have already received requests for additional helms, and when I knit them, I'll make a *real* pattern.
These guidelines are free to use for personal and non-commercial use.
First, the supplies:
Yarn:  worsted acrylic so it can wash. I used Red Heart "with love" in  pewter
Sock weight yarn – silver sparkly string (I've long ago lost the label on this one)
Needles: US #8 (5mm) cable needles – US #8 dpns – US #8 straight (optional, the cable needles can be used instead)
Tapestry needle
Crochet hook (optional)
I knit tight, so the worsted and the sock weight yarn together made a stiff fabric. But that's good! A helm should be sturdy. If you're a loose knitter, you might want to go down a needle size. I knit this for a 23″ head, but it fits a 21″ nicely too.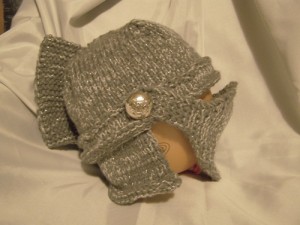 Hat:
I started with the hat, and any beanie pattern would do. So if you have a favorite, use it–however, I suggest no ribbing since helms are meant to be smooth.  I decided I liked the decreases in the Turn A Square pattern by Jared Flood (free on Ravelry here) so that's the hat I used, EXCEPT I modified it a bit:
Modifications: cast on 84 stitches. Didn't bother to do the tubular cast on (used a long tail cast on) and purled the first 4-5 rows.  I thought I'd leave that purled edge, but in the end, I rolled the purled edge up and it created such a nice border around the brim I left it up.
Neck piece:
To make the piece at the back of the hat that covers the neck, I put on the hat and marked the points above my ears. In retrospect, I might have come a little forward and marked points at my temples. Where ever you choose to mark, you will now pick up stitches (here's where the crochet hook can come in handy) from one mark, all the way around the back to the other mark.
If you made the rolled up purl edge (like mine) pick up the stitches about 4 rows down from the top of the rolled edge, while the edge is rolled up.
Knit this flat in stockinette stitch, slipping the last stitch at the end of each row to give it a nice clean edge, until the piece that covers the neck measures 3-4 inches down from the edge of the hat. If you have the recipient handy, try it on them at this point. You want the neck piece to NOT to touch the shoulders.  Bind off.  My edge seemed to roll a bit, so once again, I just rolled it up about 2-3 rows, and did a quick basting stitch with the tapestry needle and gray yarn to hold it there. And happy accident–it made the bottom edge match the brim.
Visor:
When I make more of these helms, I'll note the real steps to making the visor.  I did not make button holes, but you could. The basic guidelines are:
Cast on 6 stitches and knit flat in garter stitch, slipping the last stitch of each row (with yarn in front) to give it a nice clean edge on both sides.  You'll want to attach the visor right where the hat and the neck piece join over the ear (or temple).  For this hat, I knit those 6 stitches in garter stitch (slipping last stitch of each row) for about 2.5 inches, then did an increase row: knit 1,  KFB (knit front and back), knit until last two stitches, KFB, slip stitch.
Knit 3 rows, work increase row, knit 3 rows, work increase row.  Somewhere along the way, I increased 4 for the row instead of just two, knit 3 rows, worked increase (adding 4 instead of 2 stitches) and then knit for several rows.  The idea is that you're adding stitches at the ends of the rows to create the diamond that fits over the mouth and chin.
Once I was near the nose, I did the final increase of 8 stitches in the row (4 at the start, 4 at the end) and knit 4-5 rows. The piece should reach the center of the nose. I marked that as my center point, and basically knit and reduced to create the opposite side of the visor (you'll ssk at the start of rows, and k2 at the ends of the rows to get the shaping correct.)  I folded the piece in half to check my progress and to try to create an even second half. You will end with 6 stitches, knit 2.5 inches, and cast off.
Crest or Comb:
Cast on 10 stitches, knit flat in garter stitch slipping the last stitch of each row to make a nice clean edge. Knit until piece measures 6 or 7 inches. Bind off.
Bringing it all together:
Hat: I ran a basting stitch with tapestry needle and gray yarn (or just a quick stitch here and there) under the rolled up edge of the purl stitch to keep it in place.
Fit the visor by choosing a button with a looped backing. I pressed the looped back of the button through the end of the visor and sewed the button in place right where the hat and neck covering met, making sure the visor could slide up and rest on the hat, and slide down and rest over the nose. Repeat on the other side of the visor.
As mentioned above, I also rolled up the bottom edge of the neck piece and ran a basting stitch with tapestry needle and gray yarn to keep it rolled up in place. I only rolled up about 2-3 rows, so it's a very thin "hem".
Pin the crest/comb in place in the center of the head, down to the neck. Stitch it in place (standing up) by sewing the bottom edge firmly with tapestry needle and gray yarn to the hat.
Tie off & weave in all tails of the yarn, and you, my friend are now ready to defend the kingdom! (and to bring me a shrubbery.)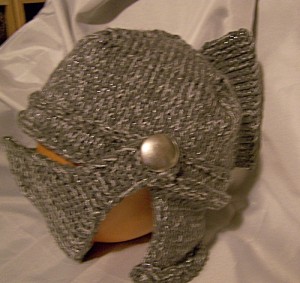 Mirrored from Devon Monk.
I wrote a short story. I was talking about it last week, wondering if I remembered how to do the little tricks that make a short story work since I've been so focused on novels the last few years. The obvious difference between writing a short story and writing a novel is the word length. My novels run about 100,000 words. This short story was only allowed to be 6,000 words.
There are a *lot* of similarities in tackling the writing of both lengths of stories: world building, characters we can connect with, conflict, tension, resolution, a fresh twist or take on the subject matter.  Except a short story has to do all that stuff in a lot less space…without looking like it's hurrying along or making the reader feel like they're missing anything.
With novels, there's a sort of broader-brush flow to making the words, sentences, paragraphs, and chapters work together to carry the reader though the story. With short stories, I will cut one word and replace it with another so I can save myself a sentence worth of explanation. That kind of tighter attention to word wrangling is great fun…a lot like a puzzle or logic game that you know has an answer if you just keep turning it this way and that.
In any case, this short story is titled, LIFE BETWEEN DREAMS, and it's set in a story universe I'm fiddling with for fun.  When my brother asked me what the story was about, I explained it to him.  He stared at me a moment then said, "Are you sure that's not a book?" 

  Trust me, it's a short story, but  the world does have potential for more stories to come out of it. Who knows? Maybe if readers really like it, I'll see what else that universe wants to offer up.
Readers will be able to get their hands on LIFE BETWEEN DREAMS, in April.  More news on that (and links to the anthology where the story will appear) soon.
Mirrored from Devon Monk.