I just posted that I would be giving away 6 copies of CRUCIBLE ZERO. And….my web page is broken. It has no comment button. Sheesh.
I'll do a little maintenance and see if I can fix it.
Sorry for the delay. I'll get that giveaway back up and going as soon as I can.
Mirrored from Devon Monk.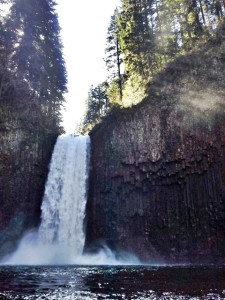 This started out as a test post to see if some maintenance I've done here on the page is working, but then I decided why not do a quick catch up?
At the beginning of the New Year, I decided I wanted to get out at least once a month and go somewhere within day-driving distance for a hike.
Oregon has some amazing scenery, but over the last few years my long hours and seven-day work weeks haven't been exactly accommodating for real-life adventure.
Hubby agreed he'd like to do some day hikes, and so we've headed out, one day each month, to go see what we can see.
Last weekend hubby, sister, brother-in-law, and I hiked Abiqua Falls for the first time. This 92 foot falls is less than an hour's drive from my house and is stunning. The trail is a little muddy, steep, and rocky, but the surrounding forest is beautiful.
And the destination? Worth it.

Mirrored from Devon Monk.
Don't mind me. This is a test post. I'll take it down in a second and do a real post soon.
Testing, testing. Link
Photo: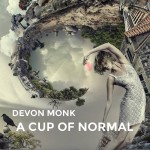 Mirrored from Devon Monk.
I am so excited to share the new cover for my short story collection: A CUP OF NORMAL. My publisher, Patrick Swenson at Fairwood Press (and fellow author, check out his noir sf THE ULTRA THIN MAN) has quite an eye for this kind of thing. When he suggested this cover, I fell instantly in love. I hope you like it too!
Since we were adding a new cover, I decided to add a new story too. I'm doubly excited to announce that the short, fun story: "A Cup of Normal" for which the collection is named is now included in the collection.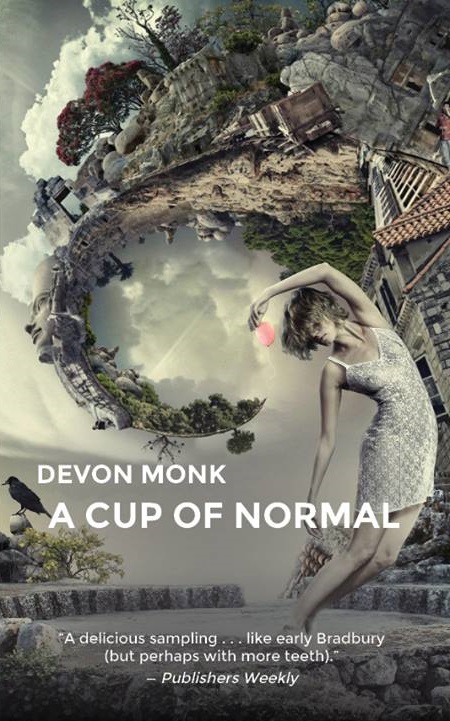 A CUP OF NORMAL contains 23 of my short stories, including "Stitchery" which was the creative springboard for the HOUSE IMMORTAL series.
If you haven't had a chance to check it out, you can find it here:
Mirrored from Devon Monk.
News #1:
The other day I mentioned that HOUSE IMMORTAL, book #1 of the House Immortal series is on a super-sweet ebook sale of only $1.99.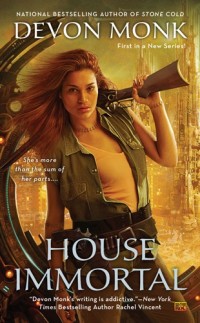 That sale lasts until February 15th–only  a few days left now!
One of the great things about this sale is it was featured on this cool site called BookBub, which I had never checked out before. Here's what it's all about:
BookBub is a free daily email that notifies you about deep discounts on acclaimed ebooks. You choose the types you'd like to get notified about — with categories ranging from mysteries to cookbooks — and we send great deals in those genres to your inbox.
I signed up for BookBub (it's free!) just last month and I have really enjoyed getting those daily emails. I've discovered some new authors and also favorite authors at great prices. As a reader, I think it's a really neat service.
News #2:
In other news, INFINITY BELL, Book #2 of the House Immortal se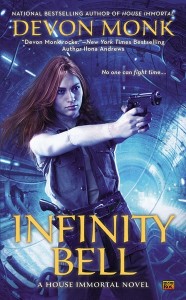 ries is going to be out in just a couple weeks! (March 3rd) I'm so excited for readers to finally get their hands on the newest installment of Matilda Case's adventures.
I'm also excited that Publisher's Weekly gave INFINITY BELL such a terrific review. Here's what they had to say:
Grit and adrenaline drive the action-filled, romance-tinged second novel in Monk's House Immortal SF/fantasy series (after House Immortal). Matilda Case is one of the 13 immortals called the galvanized. She and her brother, Quentin, are working on ensuring that Abraham Seventh, a fellow galvanized, regains his health—even as they're all on the run from the various Houses, thanks to complex and dastardly political machinations with long-reaching effects. While attempting to remain free, Matilda and her family (both by blood and by choice) must race against time to prevent genocide on a global scale. Continuous action makes for a roller-coaster effect, as the myriad twists and turns of politics and time-travel slam together. Each sentence is crafted for maximum impact, with exquisite storytelling and relatable, emotional characters. There are more than enough loose ends to ensure continued readership for future installments.
Whew! That's a heck of a nice review! I sure hope readers enjoy the book when they get their hands on it.
News #3:
I'm going to do a cover reveal tomorrow, and I hope you'll stop by to check it out.
Until then, happy reading!
Mirrored from Devon Monk.
This giveaway is over–Wow, you people are super quick!  Thanks for checking in, and I'll be sure to let you know when more freebies are available!!
This is it! First two commenters win an advance copy of INFINITY BELL! Quick! Comment!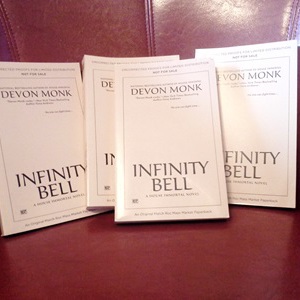 Mirrored from Devon Monk.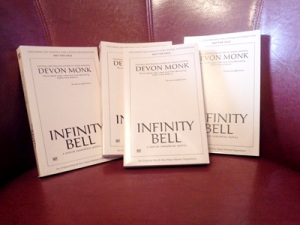 Thank you all for entering the giveaway!  I have fired up the random number generator and the winners of the ARCs of INFINITY BELL are:

Marisa who said: Yay!!! Here goes another shot!
Thanks for the chance and I hope I get picked this time <3 Love your books and missing your comments on FB. You have indeed been very quiet xxx
 Atzimba who said: Would love to read this! Thanks for the contest

 Alana Abbott who said: I just popped by the site to check the release date for this! I'm looking forward to it.

 Tracy Erickson who said: ooooooo! Please? Yay!!
Congratulations!
Winners, please send me a mailing address via the contact form here on my blog (the little envelope button there at the top right). I'll get the ARCs out to you this week!
If I don't hear from winners by January 12th, I'll do a speed giveaway that afternoon.
Happy New Year, and happy reading!
Mirrored from Devon Monk.
My goodness it's been a busy month or two! Sorry to have gone so quiet lately.
Over the next week or so, I'll try to do a few updates about projects I'm working on, but today I want to get right to the fun stuff. I have in my hands four ARCs of INFINITY BELL, and I want to put them in your hands!
INFINITY BELL is book #2 of the House Immortal series. Book #1 HOUSE IMMORTAL came out in September, and INFINITY BELL will be out in March.  Here's what the back cover says about it:
Return to national bestselling author Devon Monk's heartpounding House Immortal series, where eleven powerful Houses control the world and all its resources. But now, the treaty between them has been broken, and no one—not even the immortal galvanized—is safe….
Matilda Case isn't normal. Normal people aren't stitched together, inhumanly strong, and ageless, as she and the other galvanized are. Normal people's bodies don't hold the secret to immortality—something the powerful Houses will kill to possess. And normal people don't know that they're going to die in a few days.
Matilda's fight to protect the people she loves triggered a chaotic war between the Houses and shattered the world's peace. On the run, she must find a way to stop the repeat of the ancient time experiment that gifted her and the other galvanized with immortality. Because this time, it will destroy her and everything she holds dear.
Caught in a cat-and-mouse game of lies, betrayal, and unseen foes, Matilda must fight to save the world from utter destruction. But time itself is her enemy, and every second brings her one step closer to disaster….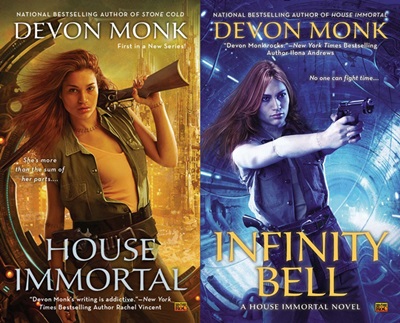 Since these are advanced reader copies of INFINITY BELL, they don't have the pretty cover, and they undoubtedly have some typos and spelling errors. 

Here's what the ARC looks like: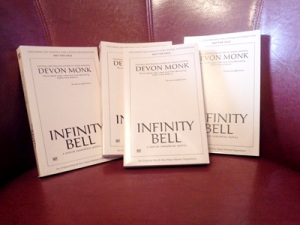 If you'd like a chance to see what happens to Tilly, Abraham, Neds and the rest of the crew before the book is even on the shelves, just leave a comment on my blog here.
I will draw four winners on January the 5th. If I don't hear back from the winners within one week (by January 12th) I'll do a speed giveaway of first-to-comment wins.
I will mail internationally.
Good luck, and happy reading!
Mirrored from Devon Monk.
Wow. I can't believe it's that time of year already: Orycon is this weekend! I'll be attending the convention Friday-Sunday (if you see me in the hall or after a panel, come up and say hi! I come to these kinds of things to visit and have fun, and would love to chat.) and THEN I'll be a part of the huge Sci-Fi Authorfest at Powell's Books over in Beaverton.
After that (next Friday, the 14th) I'll be in Seattle at the University Bookstore for a signing with Diana Pharaoh Francis and Leah Cutter, and at the end of the month, I'll be at our local (Salem, Oregon) Book Bin for Indies First Day.
Here is my schedule for these awesome events:
5:00 pm -
Getting Your First Professional Sale
Sunday, November 9
11:00 am -
I'll Be Watching You…
Sunday, November 9 – 4:00 pm
(from their events calendar:)
A starfleet of science fiction and fantasy authors descends for one galactic booksigning event. Attending authors include: Bryan Thomas Schmidt, J. A. Pitts, Phyllis Irene Radford, Mike Moscoe/Shepherd, Kristine Kathyrn Rusch, Dean Wesley Smith, Andy Mangels, Leah Cutter, Jason Hough, Nina Kiriki Hoffman, Daniel H. Wilson, Wendy Wagner, Steve Perry, Diana Pharoah Francis, Adrian Phoenix, Mark Ferrari, Shannon Page, Brent Weeks, Devon Monk, Ru Emerson, Jason Gurley, Ken Scholes, Todd McCaffrey, Jennifer Brozek, Annie Bellet, and Lindsay Johnson. The Cloud City Garrison of the 501st Imperial Legion and the Kashyyk Base of the Rebel Legion will also be on-hand.
Friday, November 14 – 7:00 pm
(from their events page:)
If you love fantasy, then this reading, signing, and panel discussion with authors Diana Pharoh Francis, Devon Monk, and Leah Cutter should not be missed. Although they'll certainly have much to share, we're especially excited to learn more about their recently released books and the exciting new adventures they begin.
Trace of Magic by Francis introduces us to Riley Hollis, a young woman whose magical ability to trace anyone and anything pulls her into a dangerous mystery, House Immortal by Monk draws us into battle for survival between those made immortal by the thread that stitches their bodies together and those who seek to claim their power for themselves, and The Changeling Troll by Cutter tells the story of a young woman who meets her exact twin just before the entire world around her starts to unravel.
Saturday, November 29th – hours to be announced
I hope those who are in the area can make it out to some of these events. I'd love to see you. Until then…happy reading!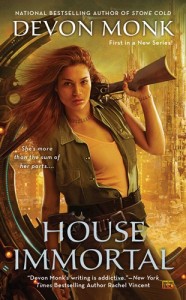 Mirrored from Devon Monk.
This is my week to post on the Deadline Dames, so this post can also be found there.

Today, I'm feeling chatty. The first book in my new series, HOUSE IMMORTAL came out about a month ago, and I wanted to extend a big thank-you to readers and reviewers and bloggers for taking time to give the book a chance.
If you haven't read it yet, I can say that it isn't a "standard" urban fantasy, but more like a science-fiction-y urban fantasy. But even though it's set in the future a bit, it still (I hope) reads like urban fantasy, with a strong female lead character, some butt kicking, some humor, some trouble that could spell out the end of a world or two, and a host of interesting people and places.
Publisher and Editor John O'Neill at Black Gate noted here, that it reminded him of "STITCHERY" the first short story he bought from me for BLACK GATE. I'm so happy he noticed! The series is based off of that short story, (albeit loosely) and Matilda, Neds, and Grandma were all first introduced in that short.
Now, the novel went quite a different way than the short story, so I think of the short story as an alternate timeline Matilda may have lived, but not the timeline she is living in the trilogy.
If you want to check it out (STITCHERY also was chosen for David Hartwell's Year's Best Fantasy #2) you can find it in BLACK GATE #2, or in my short story collection: A CUP OF NORMAL.
I feel very lucky to have started my writing career in short fiction. It not only taught me how to hone my skills, handle rejection, and create fearlessly, but it also brought me into contact with some great markets and generous people, editors, and publishers who took a chance on me and helped me grow as a writer. If you like your fantasy short stories full of adventure, then head on over to Black Gate and have a look around.
You never know what treasures might be waiting for you.
Mirrored from Devon Monk.